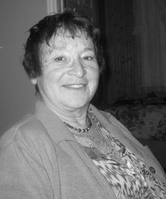 Dear Members and Supporters :
This years' annual general meeting which was held at Iles-aux-Coudes, Québec. It was organized by Mr. Michel Plouffe, one of the administrators on our Board. I would like to thank him for the excellent work he did.
Our afternoon was pleasantly spent on a guided tour of Isle-aux-Coudes. The guide was very knowledgeable and we saw and learned many interesting details about the area. If you would like more information about this tour , please refer to our article in this review. In the evening, we had a wonderful meal followed by a show with the talented Caroline Desbiens, artist, entrepreneur and deputy of the conscription of Beauport, Québec.
We are pleased to announce that our Association has elected many new and younger members to our board and we are so proud of them and their desire to keep our Association alive and strong. These new members are Myriam, Louise, Michel and Jean-Yves. Welcome! We hope that their presence will encourage the younger generations to see the importance of our work and give them the incentive to join us and help us to grow and develop in respect and friendship.
If I may, I would like to step into the past, to the year 1966 when our Association was founded. Our annual meeting was held at Mont Royal (Montréal), Québec. Nearly 800 people attended that meeting, a number we have never been able to attain since then. Today, our objective is to surpass that amount!
I joined the Association in 2005 and was named president from 2008-2012, succeeding Mr. Bernard Ouellette (2004-2008) who is still a very active member of our administrative board. I would ask all of our members and supporters to pass on their appreciation of our Association to their friends and families.
Finally, I would like to thank Mr. Roger Ouellet, past president, for his devotion and belief in our Association for so many years. He started as our Treasurer and then went on to become our President. He has agreed to stay on as a member of our administrative board and we are very grateful. I would also like to thank all of the members of our newly formed board for their support.
Denise Ouellette (member #2794)